Basketball Interactive Game
Basketball Interactive Game: An interactive game ideal for trampoline parks, family entertainment centers that tests your stamina, skills, and speed. Watch the players shoot the basketballs through the hoop.
Your objective is to score as many balls before the time runs out.  Pulsing lights and cheering audio creates an enjoyable game, thus adding a new dimension of fun to the participants.
Players try to make a game-winning shot in a high-pressure situation. Our new improved interactive floor with seven reflex pods indicates the positions for the players to attempt their jump shots before the time stops. Also, the basketball hoop integrates a ring colour sensor that counts the shots for up to three players simultaneously. Play around the world, firing squad, or knock out to test your ability to hit shots from designated reflex pods. When visitors step into the shooting arena, they will experience the innovative, most digitally connected, and immersive concept in the world. The more fun kids having to play the game, the more likely they'll want to return for more. Either way, there are numerous games played with a ball and basket that youngsters of all skill levels will enjoy.
Skill development
The shooting arena works players on basketball fundamentals and skills and improves shooting and rebounding. It also teaches a player to follow his shot, release the ball quickly while under pressure. In addition, it improves a player's stamina and endurance, as it can keep the participants running across the court and back to the reflex pods.
Above all, the basketball interactive game is easy to use and can be installed in a new area as well as in an existing one (playground–trampoline parks). Can be played individually or in a group of two or three. Perfect for families and friends. An interactive basketball shooting arena is a very cost-effective way to enable children to experience physical play.
Basketball Shooting arena:
Great activity full of energy, potentially running a couple of variations during the one game session could allow people whose strength isn't basketball, for example, to be able to still compete and not get too frustrated. This would exercise various abilities and is super fun. Basketball leagues often organize teams based on age group, so kids play with other children and adults are paired with other adults. You can train your skills to perfection on the height-adjustable basketball hoop and feel like an NBA star. The shooting arena is bound to keep you entertained for hours, regardless of whether you are visiting for a family day out or a team-building trip. Set your indoor playground or trampoline park apart from the competition as it is a totally different game. All our products are preassembled from the factory to ensure all safety requirements are considered.
UV special effects:
Fluorescent UV lighting makes basketball glow in gorgeous colours. Our experienced and highly skilled artists can design and complete spray-painted artwork to any theme of your preference. We can offer a variety of different themed attractions. The result is what you want to motivate kids for an amazing game.
Basketball Interactive Game minimum required space: 4.60m wide X 5.00m length X 4.60m height.
How it works:
Press the start button, and the 3-minute game starts.
Time can be adjusted
The interactive safety floor comes with seven reflex pods, and up to three players can operate the arena at a time.

When you select a game on the control unit, the score changes as players shoot and step on the reflex pods.

Each player has a basketball in the colour red, green, blue as the ring sensor recognizes the ball colour.
When you score the light flashes, and the sound of success is heard.
The score is displayed on the scoreboard in a specific player's colour
Key Features:
Bright, durable three colour scoreboard with timer
Built-in sound effects (studio-quality sound speakers)
Special sound effect for a three-point score
Unique colour-ring sensor (sensing up to three different colour basketballs)
Flashing lights on success
The new improved interactive floor with seven coloured reflex pods indicates the position for the players to attempt a jump shot for extra points
UV Graphics available
Game time adjustable
Huge area for bright, colourful branded artwork
Adjustable height for rim
The game is supplied with lightweight balls or real basketball size No5
DMX lights optional
Stereo sound with amplifier optional
Free trial on our premises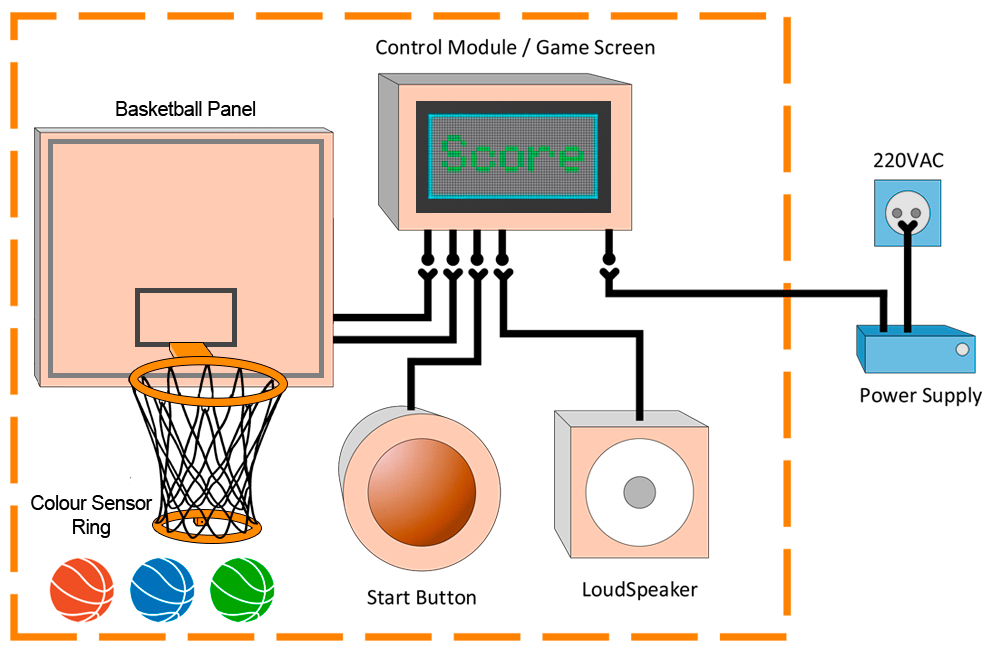 Benefits
Three players, Three-games, One Arena
Interactive floor with seven coloured reflex pods
DMX lighting
It boosts the physical condition of the players
As a result, improves strength, agility, balance, and hand-eye coordination.
Challenge
It integrates defence and attack into a  game, for that reason promotes tactics.
Competition
Challenge to win against the opposing team therefore strategy is essential.
Graphics that are customized
Customize the basketball backboard, side panels and interactive floor to match the colours of your own company logo.
Space
Suitable for new indoor playgrounds – trampoline parks or existing ones